Use of Funds
All pledges raised by the Rotary AIDS Poker Walk support local and international community service projects by participating Rotary and Rotaract Clubs, as well as selected NGOs participating as special guests. Rotary clubs operate on a 100% volunteer basis.
Proceeds apportioned to the war on AIDS, like all Rotary initiatives, are carefully allocated directly to health providers, educators or non-profit agencies and hospitals with a proven track record of effectiveness and responsible financial management. Projects are monitored. All have all been carefully vetted, and in many cases visited by Canadian Rotarians or their Rotary partners. Accountability is paramount.
Guest Teams are fielded by Registered Canadian Charities selected for their efficient, strategic and compassionate humanitarian work in HIV/AIDS, who will be directing the disbursement of their share of net proceeds in accordance with their own policies and government regulations, independently of Rotary District 7070.
75% of funds raised will be returned to the teams for their chosen AIDS charities. The balance after expenses will be directed to an AIDS charity chosen by the Toronto AIDS Walk Committee.
Residual Beneficiary Past Recipients Include: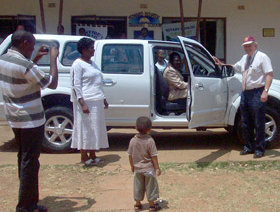 GLOBAL GRANTS - Leveraging your Donations
When Rotarians were first in Malawi in April 2009, Dignitas International was predicting that by September they would have the 10,000th patient started on ARVs. By the end of 2015, they had started 241,000.
With 1.9 million tested for HIV to the end of 2015, Dignitas demonstrates the power of providing seed money to a cause and then staying with it over the years to support its growth. Funds from the 2010 Walk were used in a Global Grant to purchase an ambulance for Dignitas.
Living Testimonies
Expert Patient Program: With the proceeds of the 2015 Global Grant, Dignitas was able to dramatically ramp up the EP program. By increasing from 28 to 120 EPs, they were able to support 120,000 HIV+ women and provide almost 80,000 clinical hours, "task shifting" work to free up clinicians and nurses. Significantly, this program demonstrated its value and is receiving ongoing funding from USAID who, in turn, are expanding the program further.
Teen Moms' Club: The Rotary Club of Uxbridge has initiated a Rotary International Global Grant to build on the success of Teen Clubs by providing educational and emotional support to teen mothers and mothers to be. The budget has been set at $100,000.
Contact Chuck Taylor at oakbridge@zing-net.ca for further information.
How Malawi Reduced its HIV/AIDS Infection Rate: Since its first diagnosis in 1985, Malawi has come a long way in the struggle to overcome HIV/Aids. At least 10 percent of the country's population has HIV. In 2013, some 48,000 people in this country of 16 million died from HIV-related illnesses. But experts across the board agree that the country, nestled deep in southern Africa, has made significant progress.
LEARN MORE >>
Your Participation, Support and Donations will:
Help save childrens' lives by blocking transmission from mother to child at birth - for the price of a coffee in Canada.
Help save their future by supporting aging grandmothers, desperate relatives, orphanages and schools struggling to raise millions of orphans with insufficient food, water, shelter, clothing.
Help take orphaned girls, many still pre-teens, out of the bordellos, off the street corners, and away from HIV/AIDS by providing an alternative means of survival for them and the young siblings they're trying to raise.
Educate: Help community workers and survivors spread the word in their villages about what HIV/AIDS really is, how it's transmitted, how to protect against it, what to do to stay alive.
Treat the sick: Provide ARV treatments, beginning with children, mothers, teachers, caregivers, community leaders - and basic pallative care for the dying when ARVs are unaffordable or unavailable.
... and much more.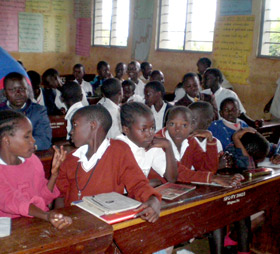 WALK THE WALK
Join a team
Start a team
Sponsor a Participant